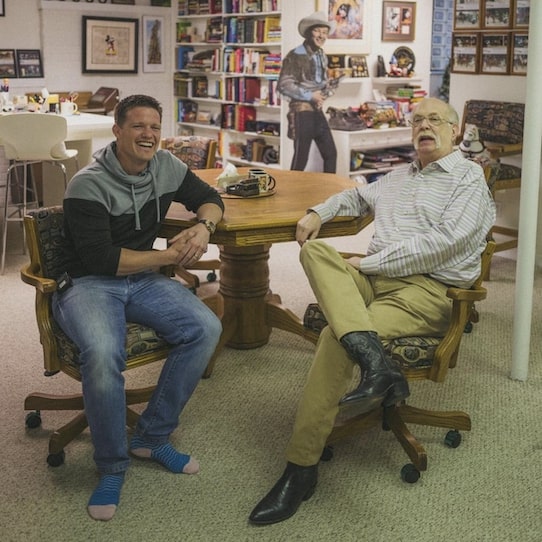 Dan Kennedy is a marketing legend. In his early days, he consulted for companies like Guthy-Renker, helping 'em create blockbuster infomercials for products like Proactiv. He had an illustrious copywriting career, authored a bazillion books, sold out seminar after seminar, spoke on stage after stage—nobody could get enough of the guy. Especially Russell Brunson, who points his gratitude gun at Dan's face and empties the clip every chance he gets.
NEXT: See More Examples And Case Studies
Anyways, eventually grumpy ole Dan gets tired of running his Kennedy Inner Circle (KIC) training biz and sells it to one of his mastermind members: Bill Glazer. Bill then rebrands it to GKIC, as in Glazer-Kennedy Inner Circle. Russell bought everything those dudes sold for like seven years straight. To this day, he says he still listens to old Dan Kennedy audios. Russell first learned about "ascending customers up the value ladder" inside GKIC; which is basically now the whole point of ClickFunnels.
The other idea Russell swiped from 'em? Bill and Dan used to only let Platinum and Titanium members (aka those who've spent the most money with 'em) speak at their events. If you've ever been to Funnel Hacking Live, you'll notice Russell does the same thing. Gotta be an Inner Circle member, a Two Comma Club award winner, the whole deal. It's pay to play, right? "We even introduce them with the membership level that they're at," Russell admits, "which makes 'em wanna ascend up."
After many successful years, Bill then sells GKIC to a private equity firm. They had no idea what they were doing; didn't understand the business they'd just bought. Instead of sticking with the one-two punch that had always worked (get members, upsell members), they started trying all sorts of new stuff. No one—not even happy-go-lucky Russell—was feeling it. With GKIC withering away, Dan convinces another one of his disciples, Adam Witty, to buy it back (at a fire sale price) from the PE firm.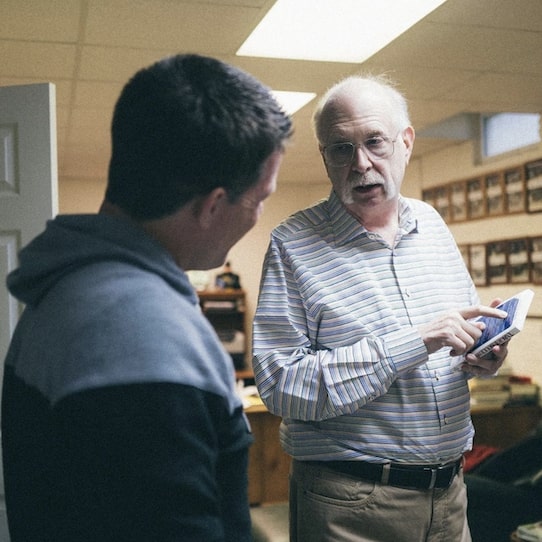 Dan was helping Adam whip it back into shape when his health began to rapidly decline—to the point where he basically said his goodbyes. Everyone online thought he'd actually died. It was a whole ordeal. But wouldn't you know, in typical Dan Kennedy fashion, the stubborn son of a gun decided, "Nah, I'm not ready yet; I'm gonna stick around a while longer." While he's on the mend, though, poor Adam's realizing he bit off more than he can chew with Dan unable to guide him. That's when he hits up Russell.
"Any interest in buying this thing?" he asks him. Meanwhile, Russell's over there panting like a Saint Bernard. Duh. Of course I wanna finish what my idol started. So he buys it, doesn't make an announcement, just keeps it to himself, right? Then he does the most gangster thing ever. Casually walks out Dan Kennedy, on stage, at this next FHL event. Entire crowd starts fangirling hard. Once the standing ovation dies down, they break the news, everyone's ecstatic, and yeah, here we are. Now Russell's got even more stuff to sell ya.
"If you're not signed up yet for our two newsletters," he says, "you're really missing out. It's our best stuff, sent straight to your mailbox, every single month. You're insane if you're not subscribed. The only reason you wouldn't be is if you literally hate money. On deck, me and Dan are writing a book together. I think it's gonna be called The Ultimate Funnel [an homage to Dan's series of The Ultimate books]." I'm guessing that'll be a free plus shipping offer with $75,000 worth of "ascension" afterwards. Can't wait.
TRENDING: How To Make Money Without Any Hype