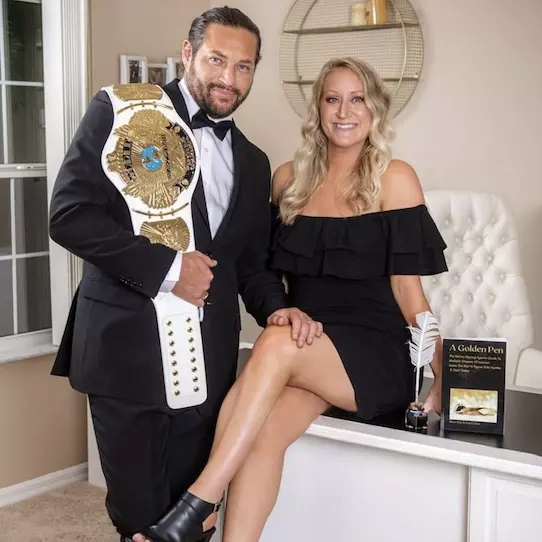 Judging by their profile pic, I'm gonna make two assumptions about Mark and Grace Sias. One, they'd probably host the most amazing themed party you've ever attended. And two, they know who Jake "The Snake" Roberts is. The dapper duo assures you that being your own boss and earning daily income with part-time hours is totally possible. Their business system is turnkey, simple to replicate, and has minimal expenses. And no, you won't need to hawk lotions, potions, or pills to your nearest and dearest.
"So what is it we do, exactly?" Mark says, getting right to the heart of the matter. "Well, we run a six-figure mobile notary business that has made over a half-million dollars in the last few years. We do real estate closings, general notary work, and offer other high markup legal services that require little to no training. Now this may seem daunting or complicated, but I assure you, anybody can do it. If you can create your own Facebook account, you can start up your own business—just like ours."
Mark and Grace are here to turbocharge your notary business. They'll provide the initial steps to get you up and running quicker than a Kardashian on a caffeine binge. They'll share the secrets to sidestep expensive mistakes they made while stumbling through trial and error. You'll score step-by-step videos and instructions, price sheets, invoice templates, email scripts, a list of 200+ vendors, and a treasure trove of other handy tools and resources. Everything you need for a silky smooth start.
And they're not done spoiling you yet. They'll dish out names, addresses, phone numbers, and emails for over 2,000 title and escrow companies eager to shower you with cash. They'll unveil the tricks to obliterate your rivals by outranking them in Google Maps and Google Organic. Their slick branding and marketing hacks will have clients flocking to you like moths to a flame. They'll even show you how to cross-sell hot services like mobile fingerprinting, credit repair, and more.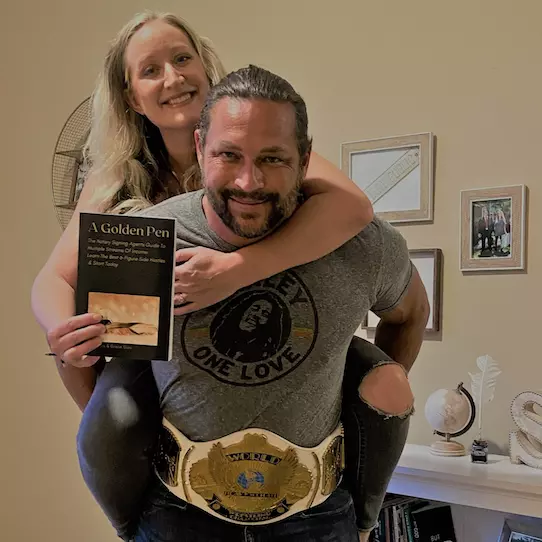 Other notary gurus serve up a tiny fraction of the value at more than double the cost. "So at this point," Grace says, "it's time to make a decision. Successful people learn to make decisions quick, by the way. So it's your choice. You could try to watch YouTube videos and Frankenstein your business together. Or pay $1,000 for a course that hardly teaches you anything. Or you could stay at a job that's not satisfying and work yourself to death. Or even you could do nothing, sit back, watch all your friends succeed—not having the guts to make a change."
"The better choice would be to buy our program, the Notary Prosperity Academy, today," Mark pitches. "For less than the cost of an average trip to the grocery store. And let us hand you the keys to a lifestyle business where you call the shots. Click the Buy Now button and we'll see you on the other side of prosperity." Cost is $1,497 or three monthly payments of $499. (Who besides Octomom's spending that much on a Costco run?) You're backed by a 100% satisfaction guarantee. Yeah yeah, whatever. The Siases talk a good game. But is their coaching translating into actual success for their students?
It would appear so. For example, one member, Tim Shepard, wrote, "This course is amazing! Wow is all I can say! Less than two months ago I enrolled, and here I am making $2k a week part-time. Next month I start rolling out more of the side hustles you teach. Can't wait to see what happens!" Hmm. Like for me, the idea of venturing out, zipping around town, and interacting with fellow humans seems quite draining when I can just lounge in my comfy sweats and generate income from my trusty laptop.