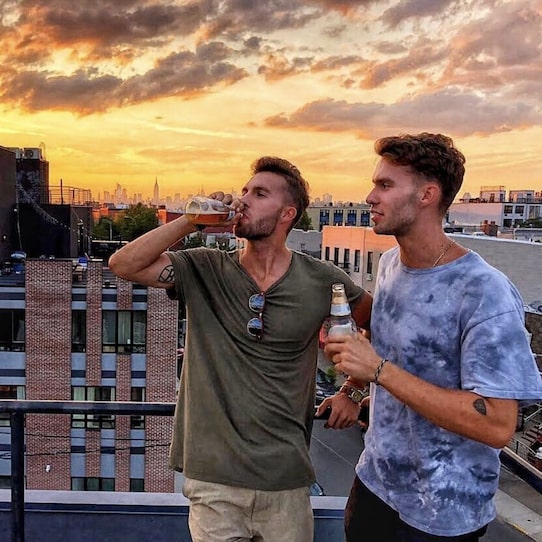 Rasmus and Christian get the same questions over and over about publishing on Amazon. Here they are, along with their answers. Question number one: Are you publishing other people's books? Yes and no, say the twins. They're not writing these books themselves, they're outsourcing 'em. But still, they're their books. Rasmus and Christian take the finished product, publish on Amazon and Audible, and pocket all of the upside. Make sense? Cool, keep reading.
NEXT: Compare This To Audiobook Income Academy
The next logical question someone might ask, then, is: Where do you find these writers who'll write the books for you? There's two main options, Christian says. The first is to use a ghostwriting company, which you can Google. There are plenty. And they have teams of professionals who can help you out. Rasmus has had good luck with The Urban Writers and HotGhostWriter. Or, option two, go to a place like Upwork and search for freelance writers. They should have sample work you can check out before hiring them.
Okay: Where do you get a book cover made then? Hire it out on Fiverr or use something like Canva to create your own, Christian says. What about narration? Who does that? You? Or someone else? The Mikkelsen twins have never narrated any of their own books. They outsource that as well. Again, just Google it; you'll find lots of options. So how much does all this cost? Both twins agree, if you have two grand, minimum, to invest in getting your first book made? You're golden.
Do they only sell books on Amazon? They'll occasionally list 'em on other sites, too, such as IngramSpark and Draft2Digital, but ninety percent of their income comes from Amazon, Audible, and Kindle Direct Publishing (KDP), which are all Amazon companies. Should you focus on fiction or non-fiction books? Beginners should stick to non-fiction, Rasmus says. It's a lot more straightforward. People are searching for "keto diet" and you try to get your Keto Diet Breakthrough audiobook to pop up, right?
Okay, so, on that note, what types of non-fiction books do well? Like, what niches should you go into? It's a combination of common sense, reverse engineering what's already working, and lots of keyword research. But generally speaking, it's hard to go wrong if you're helping someone improve their finances, health, happiness, or relationships. Then you wanna drill down and find something with high demand (search volume) and beatable competition (like do they have twenty-five reviews or ten thousand?).
How much money can one book make you? The Mikkelsen twins' best book made them fifty-five hundred dollars in a single month. They know other self-publishers who've had a single book make them as much as fifteen thousand a month, but results like that are outliers. Your book could make no money or just a few bucks if you're not careful. How long should these books be? Thirty thousand words, on average, suggest Rasmus and Christian. But usually, the longer the better.
How do you market your books? SEO. Search engine optimization. Doing what needs done to show up at the top of the search results (on Amazon or Audible) when someone types in "save my marriage" or "how to be a better father" or "best side hustle to start" or whatever your book's on, right? You can also run Amazon PPC ads. Intriguing titles and great cover art doesn't hurt. Then, you gotta have lots of positive reviews. Subscribe to the Mikkelsen twins on YouTube for more Publishing Life tips and tactics.
TRENDING: How To Create Recurring Income Online