Vertical Street Ventures Academy students have been able to purchase over $300 million worth of property over the past year. So if you're tired of working the 9-to-5 grind, missing too many key moments in your family's life, and looking for a way to be financially free in three years? Listen up. "Aspiring real estate investors, I'll give you my exact playbook these students have used," says Jenny Gou, a Managing Partner for VSV. "And if it doesn't work for you, you pay nothing."
"Vertical Street Ventures Multifamily Academy is a hands-on coaching program that teaches you from start to finish how to buy, raise capital, and run multifamily apartment buildings as an active investor," Jenny continues. "It's designed to accelerate your goals so that you can be financially free in three years or less. With this program, you'll get group mastermind sessions and office hours with industry experts so that you can learn from the very best. As well as unlimited 1-on-1 coaching sessions."
"Our experienced coaches will help you avoid costly mistakes," she adds. "You'll be part of a highly motivated, driven, and like-minded group of individuals. It's a built-in ecosystem of other individuals motivating each other to reach their goals. You get to attend two in-person training and networking events where we do case studies, bus tours, and build on these relationships to get deals done. And you'll get to partner on deals with Vertical Street Ventures and leverage our resources to get your foot in the door."
Roger that, but what makes this different from all the other multifamily coaching programs that are out there? Jenny would argue it's the true hands-on experience VSV offers. Not only are they giving you the tools you need to succeed, plus the personal mentoring, but also the ability to come and roll up your sleeves and work on the business in real time. Fair enough, but still, how do you know it'll work for you? It's proven, Jenny says. Last year alone, remember, VSV Academy members did $300 million in transactions.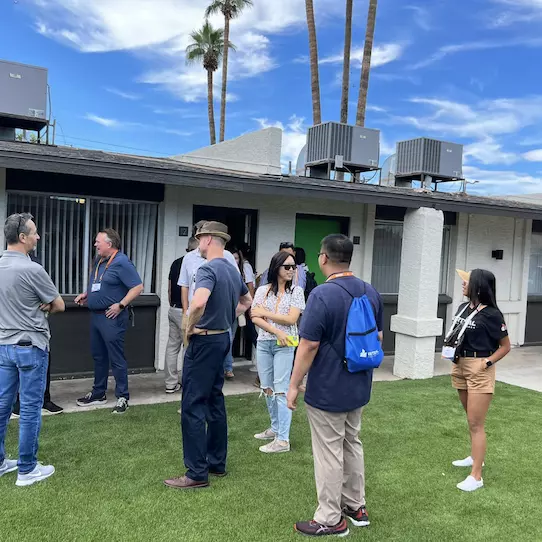 "And we've partnered on five deals already, just with our students, so far this year," Jenny brags. "Where we walked them through the entire process, again, from acquisitions all the way through asset management. And we're the only coaching program available today that provides this level of hands-on training. The good news? Experience level doesn't matter. Our current student profile is the definition of diversity, from all walks of life, age, and life stage. The one thing they all have in common? A desire to be financially free in three [years]."
Jenny says quite a few of their students have already retired from their day jobs. Most everyone trying to get results in this industry assumes they can just figure it out themselves. They read a book, watch some YouTube videos, listen to a few BiggerPockets podcasts, and dive in head first. And while they might've gotten some good insights from their "research," it probably didn't go deep enough—into the nuances and the actual steps—to translate into real world success. Not the case with the VSV Multifamily Academy.
"Our team of coaches has over 50 years of experience in real estate investing," Jenny points out. "They've worked on all different types of deal sizes all across the country. And they specialize in different components of buying real estate. Why's that important? It'll help you accelerate by cutting your learning curve by more than half the time. You're the quarterback calling all the plays, but we're the rest of the team." There are three levels of VSV Academy: Essential costs $1,997; Enhanced costs $11,997; and Elite costs $19,997 plus $197 per month. The more you pay, the more goodies and support you get.