Robby Blanchard is best known for his Commission Hero course, where he shows you how to make $1,000+ per day as an affiliate. But the puffy, pasty white pitchman just announced a new course he's coming out with. It's called Project Platinum. It's all about helping people reach Platinum status on ClickBank. To do so, you have to earn at least $250,000 in affiliate commissions, through ClickBank, in a single year. Here's what we know so far.
Robby claims to have helped 100 people achieve this milestone already. Which, on the surface, sounds impressive. But given that thousands, if not 10,000 plus people bought his Commission Hero course, that's still a very small percentage. Also, just 'cause those 100 people made at least $250k in ClickBank commissions in a year doesn't mean they profited that much. After ad spend and software and tools and funnel builders and paying Robby for his mentorship, heck, some of 'em could've lost money.
Either way, in a perfect world, Robby wants everyone who joins Project Platinum to join that elusive club. My guess is less than 1% will. That won't stop Robby from trying to convince you otherwise. "This is a brand new angle, brand new course," Robby says. "And it's a brand new software designed to help even more people have success. My students have done over $100 million on ClickBank to date and I know that Project Platinum will supercharge success for everyone involved."
So again, the mission is to help students reach Platinum on ClickBank by generating at least $250k in commissions in a calendar year. There's an AI-powered software suite because of course there is. Artificial intelligence is hot right now. Even if it's garbage, it'll help Robby sell this program. As for the training, it'll expand on the core Commission Hero system. Which was: pick a worthless eBook for sale on ClickBank, grab your affiliate link, run misleading Facebook ads, spam those people till they buy. Hope to make back more than you spent. (More or less.)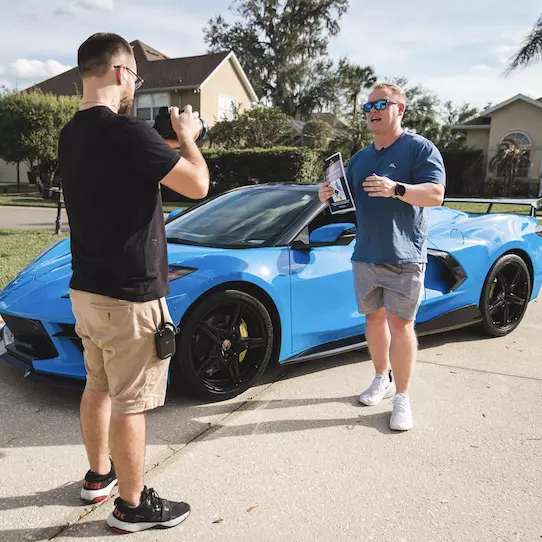 "Project Platinum was created because when I attended the ClickBank Platinum event in Costa Rica," Robby adds, "there were over 30 of my students there who had already made Platinum (which is $250,000) in a year. On top of that, I found out that of the 600 or so people that have made Platinum, over 30% of them are my students. That's why I created Project Platinum. My goal this year is to help 1,000 people get to the $250k mark on ClickBank and do it through my proven three-step system."
Nothing says legitimate like proven three-step system. Or filming content in front of your new baby blue sports car, paid for by all the people who now can't afford their own car payment because they bought your overhyped course. Am I right? Project Platinum is a six-week masterclass with the latest and greatest strategies for promoting ClickBank products on Facebook and YouTube. The AI software will apparently make your ads for you. Hope there's a module on what to do when you inevitably get banned.
With Project Platinum, it's simple and easy to make commissions without building an email list, creating a product of your own to sell, or even doing customer service. This, according to Robby, who's already busy incentivizing his army of affiliates to spray the internet with positive reviews so they can earn a 50% commission on the program plus qualify for over $150,000 in prizes. I never really understood what "highly punchable person" meant until I saw a Robby Blanchard ad. Now I totally get it. Project Platinum will cost $2,497 and there'll probably be upsells after that.