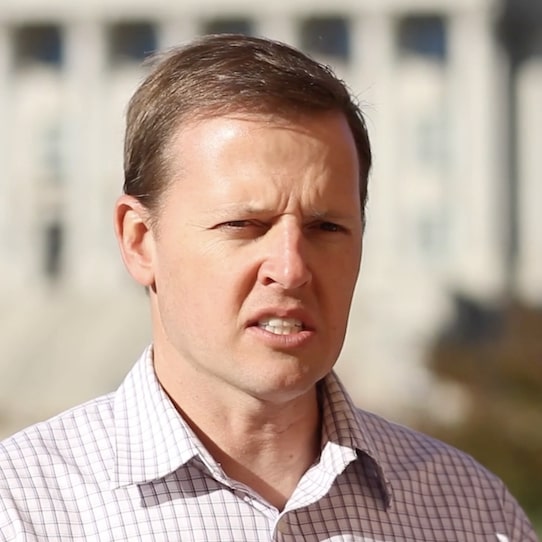 Brett Kitchen and Ethan Kap are the guys behind Bot Trading Mastery. They've been in business together for the past 20+ years, launching a number of websites and books and programs during that time. Based out of Salt Lake City, Utah, the two serial entrepreneurs lost a fortune when the market crashed a few years back, forcing them to find a better way to do things financially. So they traveled the country, meeting with experts, trying to crack the code to building lasting wealth.
NEXT: No Bots Needed (Do This Instead)
That led to their book, Wealth Beyond Wall Street. "That became a bestseller," says Brett, "and helped us make the Inc. 5000 Fastest-Growing Companies two years in a row. We've trained thousands of financial advisors on how to create income for their clients that won't disappear during the market crash. The message of building wealth beyond Wall Street has been heard by tens of millions of people, and yet we knew there was more we could do. So we made a Hollywood film to get the word out to even more people."
"That documentary, called The Baby Boomer Dilemma," he continues, "includes two Nobel Prize-winning economists, seven PhDs, government insiders, SEC whistleblowers, and many other experts alongside Ethan and myself. And all of these economic experts agree that creating income is the best way to enjoy financial independence. Now and for a successful retirement. Obviously, being in the financial industry, we realized crypto was changing the world of finance and investing."
"We started investing during the bear market and nothing happened for years. It was slow and frustrating but eventually the bull market started and our investments grew. But hoping and praying things will keep going up was always a little frustrating and a little slow for us. That's when we returned to trading. Instead of hoping and just waiting for the market to go up, hodling, we're always looking for income-producing assets. Income gives you freedom, it gives you lifestyle liberation. So you need cash flow."
But how were Brett and Ethan gonna generate that cash flow through crypto? Since they were both married with four young kids, it wasn't feasible to be glued to their phones 24/7, moving in and out of altcoins, manually, at just the right time. Enter automated trading bots. Which they've spent the last couple years researching, testing, and running for their own live crypto accounts. Lo and behold, it's proven to be a consistent way to make money each month, completely hands-free. And the returns are astronomical. We're talking 100-, 200+%.
"That's real, meaningful income for many people," Ethan says. "And so that's our mission. To help our clients create meaningful income that can deliver financial freedom to others just as it has for Brett and I and the people we've showed this to already. Imagine having an automated trading bot making you money month after month with very little babysitting on your end. That's what we've accomplished and that's what we look forward to doing for you." But what if you've already tried bots and lost money?
Well that's because you're not using a "slingshot bot," which is much different than your typical DCA bot or grid bot, Brett and Ethan counter. That's 'cause it doesn't stop profiting when the market tanks. Although, with it, you need coaching, a proven plan, accountability, and real-time feedback. And that's what Bot Trading Mastery gives you. Fill out a short app to see if you qualify. No mention of cost, but my guess is it's not cheap. Seem like good dudes. But this whole thing just went way over my head.
TRENDING: How To Invest In Virtual Real Estate