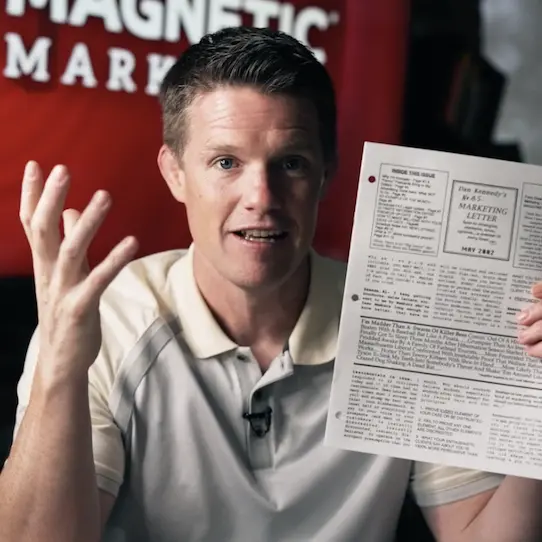 Russell Brunson tried selling me Funnel Scripts, a software that does all your copywriting for you, just the other day. Today, he retargets me with an ad for The No B.S. Magnetic Marketing Letter, which he publishes alongside the legendary Dan Kennedy, so I can "learn to write copy that cuts through the noise and demands the attention of top agencies and clients around the world." Russell the honey badger of make money online. Competing offers? Pfft. He don't care.
"Yes, it is true, you may have already heard," Russell says, clapping his hands together with childlike enthusiasm. (Wouldn't surprise me if he had a Go-Gurt and a crack rock for breakfast. How's he always that excited?) "ClickFunnels has officially acquired Magnetic Marketing, which is Dan Kennedy's company. And we're both honored to present to you something that we call the Most Incredible Free Gift Ever, or the MIFGE. And it all starts with Dan Kennedy's original No BS Magnetic Marketing Newsletter."
Dan started publishing it way back in 1995. Now Russell's team has been working tirelessly to bring it back albeit with a bit more color and gloss. But don't worry, it's still got the same Dan Kennedy principles and philosophies along with his patented snarky tone. Should you sign up for it, it'll show up on your doorstep, once a month; and you can rip it open, and it's like holding a marketing seminar in your hands. Read it, extract the nuggies, and go and apply 'em immediately into your business.
If it's not clear from the name, there's no fluff, no nonsense, no marketing hacks that are here today and gone tomorrow. Just timeless tactics that'll form the backbone of your biz. The stuff'll work online or off, and whether the market's up or down. Russell's also gonna throw in his Behind The Scenes Marketing Secrets Newsletter. Which is chock-full of insights he and his team only discover by spending millions of dollars on advertising every single month to sell you crap like this. But hey, you'll know exactly what's working today online.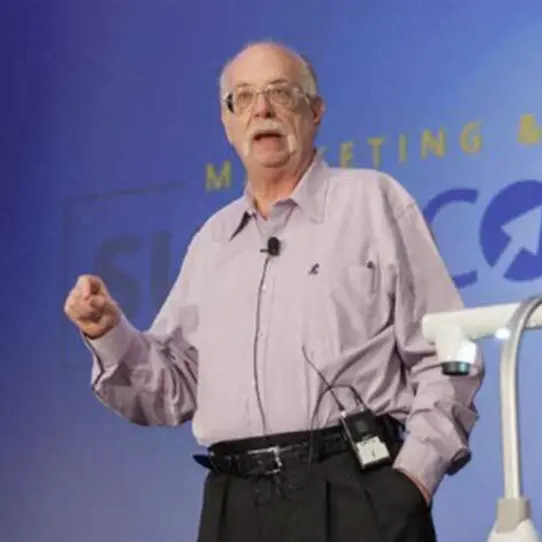 And this wouldn't be a true Russell Brunson or Dan Kennedy pitch if it wasn't dripping with bonuses. There's a Brass Balls program; a DotCom Secrets Live recording; Dan's old Renegade Millionaire course; Midas Touch Marketing; a Traffic Secrets Live recording; Magnetic Marketing On Demand; a physical copy of Russell's The 74 Funnel Swipe File book; as well as Dan Kennedy's bestselling book, Magnetic Marketing. All that, thrown in, free of charge, when you say maybe to The No BS + BTS Letters today.
Of course, they've got testimonials from the likes of Ryan Deiss, Perry Belcher, Frank Kern, Brian Tracy, Joe Polish, Ali Brown, Lee Milteer, and other big names you might've paid for info products they slopped together over the years. But let's talk cost. The total value of this MIFGE (*cringe) is apparently $19,997. Don't worry, you won't pay a fraction of that. Nope, all this garbage can be shipped off to you as long as you pay $29.95 for printing and shipping. This gets you a free 30-day trial to both newsletters.
If you like 'em, do nothing, and they'll ding your card $97 a month thereafter. Plus try to sell you more expensive continuity programs and courses and live events and much much much more expensive masterminds and retreats. If you can't tell, I hate everything about it. For one, it perpetuates a style of marketing that needs to be dragged behind the barn and shot. Two, they're drowning you in information. If they cared about you making money, they would give you less not more. Three, it makes me sick to think about all the people buried in credit card debt because of Russell Brunson.