Bastiaan Slot is the founder of Millionaire Consulting and Appointment Setter. The latter of which is what I wanna talk about today. Can you really make $10k or more a month working remotely as a "new age setter?" What would you be doing, exactly? And who would you be doing this for? And why's Bastiaan willing to guarantee your success in the next 60 days? Scroll down and read on. I'll answer all that and more in this AppointmentSetter.com review.
Before making millions as a consultant, Bastiaan earned his first money online working as an appointment setter. He built that up to over $10k a month, providing a launchpad for his next business, Millionaire Consulting. Now, in that business, he's connected with so many people who need appointment setters. Why not help new entrepreneurs follow in his footsteps and help out his Millionaire Consulting clients in one fell swoop? Which is precisely why Appointment Setter exists today.
"What we do in one sentence is, we help nine-to-fivers and beginner entrepreneurs make their first $10k+ per month working as an appointment setter like I used to be," Bastiaan says. "And we guarantee placement. Which means, after you become an experienced setter, you would basically be placed within an opportunity you can make a lot of money with by joining an established business. So not only the guaranteed placement, but guaranteed income in 60 days or less. That's our goal for everyone who joins us."
"So what we do is we teach you the skill of appointment setting and help you get certified," he continues. "Because business owners, they need appointment setters, but they just don't want someone who's not experienced because then you'll burn through the leads (who've submitted an app or booked a call to learn more about the product or service). They're spending big money on ads to get these leads, so they can't risk wasting them. But we'll connect you with someone who needs a certified setter. Now. What are they selling?"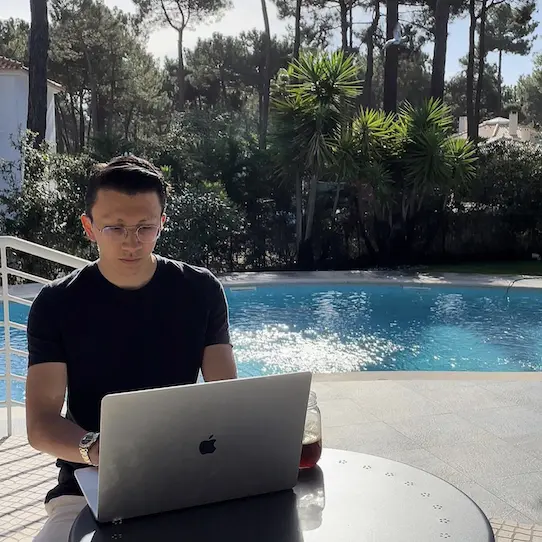 High-ticket courses, coaching programs and services, Bas explains. Generally priced anywhere from $5,000 to $50,000 or more. So what you're doing is sorta screening each lead, making sure they're a good fit, they've got the money, and they're gonna show up to the sales call. Then, if and when the business owner or one of their salespeople closes them, you're gonna get a commission. Usually 5-10%. When you start crunching the numbers, it's easy to see how you could realistically do $10 Gs a month with this.
And you didn't need experience or capital or to start a business of your own to get there. However, I would argue you would have to be a people person, enjoy being on calls and Zooms all day, and have at least some sales and tech skills, even though Bas doesn't mention any of that. Nope. Just pay him, get NAS (New Age Setter) Certified, get placed, start setting, and collect commissions. "It's that simple!" he says. "And you can work remotely and have a flexible schedule that allows not just financial but location and time freedom as well."
The New Age Setter Program is a step-by-step video training plus weekly coaching, accountability, a private Discord group, and then the guaranteed placement and $10k per month roadmap. Bastiaan gives you a tour of the course and community and seems proud of what he's created. He's got some nice testimonials, too, in the short time he's been running this. A guy named Tom Rees somehow hit $30k per month already. Another dude, Yunus, is making $12k per month. Seems legit. I just wish Bas would say what it costs without you having to book a call.